The BCHS Christian Service Program
Bishop Chatard students complete over 20,000 service hours per year. This is made possible through a robust Christian service program that provides a
list of service agencies
and occasional service excursions that allows students to participate in service that fit their unique interests.
The Bishop Chatard Campus Ministry Office tracks the number of service hours completed by each student. Students who go above and beyond their service goals are recognized at all-school assemblies.
2019/2020 Christian Service Program coordinators are BCHS teachers, Jeff and Jackie Bach. They can be contacted at jdbach@bishopchatard.org (Jeff) or jbach@bishopchatard.org (Jackie). Community Service Day contact is Mr. Steven Patzke, spatzke@bishopchatard.org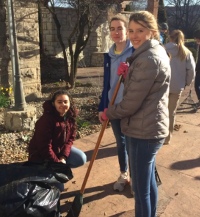 The goal of the Bishop Chatard Christian Service Program is to foster the development of empathy, awareness, social responsibility and Christian community. Our mission sends us into every kind of work, reminding us once again that the further we go in giving, the more we stand to receive.
"We come not only to serve the poor, but also to be with them." Our concern for the dignity of every human being as God's cherished child directs our attention to the disadvantaged.
Christian Service Program Objectives
Expose students to a variety of service opportunities so that they will discover their gifts and interests and remain committed to Christian service for life.
Enable students to work directly with disadvantaged populations (outreach) and to have a deeper appreciation of the dignity of all human persons.
Give students an opportunity to reflect on the message of Jesus Christ as it relates to their service experience and to make that message a permanent part of their lives.
---
Recognizing 'Above and Beyond' Service
St. Francis Assisi Award
Each month, at an all-school Mass, the St. Francis Assisi Award is presented to a student or staff member who is living out the mission of service.
Nominations can be submitted to Steven Patzke, Campus Ministry Director, at spatzke@bishopchatard.org.
Nomination form for the award.
St. Teresa of Calcutta Distinction
The St. Teresa of Calcutta Medallion is given to any student who has completed 75 hours or more of service during a given school year.
St. Lawrence Honor Cord
This honor cord is worn at graduation, signifying a senior who has completed 200+ hours (required and extracurricular) in their 4 years at Bishop Chatard. (Note: First students eligible for this award will be the members of the Class of 2018).
2019 -2020 Christian Service Program Requirements
---
Freshmen

New for 2019/20
Jesus began his service at home with the Holy Family, and our freshmen begin their journey in the same way. Each first-year student forms an intentional relationship with a member of their immediate family and serves with that individual in a meaningful way. Projects range from tutoring a sibling to helping a parent/guardian with a long-neglected home improvement project.
Read more about Freshman service requirements
---
Sophomores
Participate in Community Service Day
Complete 15 hours of service, 3 hours of which must be OUTREACH
---
Juniors
Participate in Community Service Day
Complete 15 hours of service, 6 hours of which must be OUTREACH
---
Seniors
Participate in Community Service Day
Complete 15 hours of service, 10 hours of which must be OUTREACH
Welcome to the BCHS Christian Service Program (pdf)
View our list of approved agencies and agency details for upperclassmen
Community Service Day -- March 20, 2020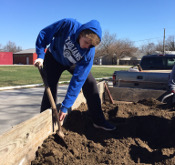 On this day, the entire Bishop Chatard community – students, faculty and support staff – spend the day in service to others throughout the Indianapolis area. Many agencies, churches, and schools benefit from our work and look forward to having us back each year.
Community Service Day is Friday, March 20, 2020.
Note: Community Service Day hours do not count toward individual student service hour requirements.
Online Permission Form for Community Service Day
DEADLINES
Seniors: All service/outreach hours must be completed and documented no later than April 1, 2020.
Sophomores & Juniors: All service/outreach hours must be completed and documented no later than May 1, 2020.
Freshmen: Dec. 5, Jan. 23. See requirements and reporting above.
Documentation of Service/Outreach Hours (Sophomores, Juniors, Seniors only)
To be documented, all service/outreach hour information must be submitted via our service app, MobileServe. Documentation must include the name of a contact person at the agency you served who can verify your service, or a BCHS staff member or coach who organized the service opportunity.
Service/Outreach can be completed during the summer. If you are not able to access the online form, jot down details during the summer to be submitted in the Fall via the form.
How to Check on Reported Hour Acceptance and Verification
Students can verify their submitted hours have been accepted and verified by doing the following on the MobileServe app:
Open the MobileServe app and click on the "Activity" button on the left.
If a submission has a green check on the right, it has been verified and accepted.
If a submission has a red X, the student can open the page, edit as needed, and re-submit if needed.
Note: Please turn ON notifications in MobileServe
Failure to complete the required hours
Failure to complete the required number of service/outreach hours will not impact GPA. However, it will result in the student earning an Incomplete, which will be recorded on the permanent record of the student, including report cards and cumulative final transcript.
More Information
Information about service can also be found in Canvas, in the student course: 'Service Program.'
All outreach is service, but not all service is outreach.
SERVICE is any type of work we do, outside of our normal responsibilities, to benefit others while receiving no pay or other benefit ourselves.
Service involves:
Assisting an approved church, school or non-profit organization in fulfilling its mission. (Note: this might involve person-to-person contact, but not with those who would be considered disadvantaged.)
Working with an approved organization to benefit the disadvantaged, but with no person-to-person contact.
OUTREACH is service during which we have direct, person-to-person contact with the disadvantaged.
Ourtreach involves:
Working with an approved agency to engage in person-to-person contact with the poor, the homeless, the marginalized, the institutionalized, elderly outside the family or any other socially or economically disadvantaged group.
View our Outreach Opportunity Calendar
Service vs Outreach Examples
Service: Working at St. Vincent de Paul warehouse by sweeping the floors or stocking shelves.
Outreach: Working at St. Vincent de Paul warehouse, helping clients choose the food and supplies they want, and helping them load them in the car.
Service: Working at one of the BCHS summer athletic camps.
Outreach: Working at a summer camp for disadvantaged youth at a place such as Miracle Place or St. Mary's Center.
Sophomores, Juniors and Seniors service must include outreach hours as well as service hours.