Mission/Immersion Trips
BCHS offers several opportunities throughout the year for students to experience the culture of other communities while serving people in an area outside of our city through immersion mission trips.

2020 Summer Field Studies
Current Bishop Chatard juniors and seniors are invited to join students from Roncalli and Cardinal Ritter for Summer Field Studies 2020: one part academics, one part adventure, one part retreat. Over the years, almost 3,000 students have participated in this unique outdoor experience. 2020 locations include San Juan National Forest and Rocky Mountain National Park.
Trip Dates: June 8 – June 21, 2020
Students hike, climb, camp, cook, swim, raft, backpack, play, and pray in a uniquely challenging program that teaches students to respect themselves, to become leaders, and to work to achieve their dreams. Most importantly, students learn to read from the Book of Creation that God has given us to make known His grandeur, wisdom, and love for each of us.
Cost – $1,850: The tuition covers all transportation, food costs, backpack, sleeping pad, camping and park admission fees, rafting fees, laundry, showers, and lodging expenses. Students provide their own sleeping bag, daypack, and tent.
Initial deposit for the trip is due Dec. 3, 2019.
Questions? Stop in or email BCHS teacher Mrs. Tebbe, stebbe@bishopchatard.org.
Read more on www.summerfieldstudies.com
El Salvador Immersion Trip 2018/2019
The above video was created by BCHS student Belle deCastro, after her experience in El Salvador in 2018/2019.
For the past 11 years, Bishop Chatard has offered a yearly immersion pilgrimage trip to Guarjila, El Salvador for juniors and seniors. This trip is not a typical mission trip; it is a pilgrimage, focused on meeting Christ along the way. It is a week of building lives and building relationships with the Salvadorian people, rather than building houses or doing repair work.
Students live the life of a Salvadorian for one week. Those on the trip have the opportunity to live with a host family, share all meals with our BCHS group, travel to different parts of the country, learn about the Salvadorian Civil War, learn about the amazing Catholic martyrs and saints who risked and lost their lives to be the voice of the poor. It is at time of prayer, reflection and tremendous growth
Students and leaders meet once a month to prepare for the trip; to learn about El Salvador, reflect, prepare and get to know each other before the trip.
In 2018/2019, there are 2 groups traveling to El Salvador. Over Thanksgiving, 7 students and 3 adults are on the trip; over Spring Break, 13 students and 3 adults will participate. Cost is $2000/student, which includes a portion to support the El Salvador youth center, a project supported by the Tamarindo Foundation (with roots in St. Pius X Parish).
If you would like more information or to make a donation for a student's attendance or to the project, contact BCHS Campus Ministry Director, Steven Patzke at spatzke@bishopchatard.org
Nazareth Farm Mission Trip
During the summer, students can travel to Nazareth Farm in West Virginia for this service experience.. This is open to any student 16 years or older.
Spiritual Leadership Clubs at BCHS
Adoration Team
Moderator: Deacon Rick Wagner
Bishop Chatard offers Adoration each month in the SBC (St. Benedict Center) Chapel. Theology teachers bring their classes to the chapel during designated periods to participate in Adoration. To ensure that the exposed Eucharist is never left alone in the chapel during unscheduled periods, the Student Adoration Team was born.
Requirements: Any Bishop Chatard student in good academic standing may participate as a member of the Student Adoration Team. The best candidates are those students who have a sincere desire to participate in an intimate encounter with Jesus, appreciate time devoted to reflective prayer, and want to ensure the school's ability to offer regular Adoration to the community.

ProLife Club
Moderator: Mr. Patzke
Pro-Life supports and promotes the Catholic attitude and teaching on the value of all life. This group strives to make evident to the students, staff and community our support of the moral issues of life. Members participate in various city and national events to plan major activities as well as develop ways to spread the message of respect for life and dignity.
Requirements: Open to all.
Major Activities: March for Life in Washington, D.C. in January. City-wide events and rallies, such as the Life Chain.

2019 March for Life Trip to Washington D.C.
Mentors & Mentees
Moderator: Deacon Rick Wagner, Jeff Bach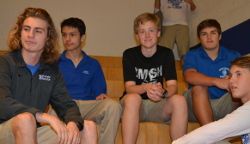 The Mentors & Mentees (M&M) Program connects each freshman student with a senior mentor. Each meeting is focused on a new question to help guide discussion, such as: Who am I? What makes me uncomfortable? Where can I turn for help? and What are my high school goals?
The goal of this unique program is to provide the newest members of our school community with a senior mentor to offer guidance, support and affirmation, along with the wisdom that comes from experience. At the same time, the senior mentors develop important leadership skills and 'pay forward' the blessings they've received while at Bishop Chatard.
Requirements
: Open to freshmen and seniors
Major Activities
: The freshmen meet with their senior mentors approximately 6-7 times throughout the school year. Meetings often begin with a large group presentation before breaking into smaller groups for more individualized time between the seniors and freshmen.
"I have really enjoyed being a part of the mentor program. I really enjoyed having an upperclassman to look up to during my freshman year. My senior mentor helped me get involved in clubs, figure out what to wear on spirit days, and even helped me find a tutor when I was struggling with a class. As a freshman, it was really nice having someone that I knew I could rely on and help guide me through the awkward freshman year situations.
Molly Keating, Class of '19
St. Augustine's Prom
Moderator: Kim Shaw
Each year students plan and attend a Prom for resident's at the St. Augustine's Retirement Home. Students decorate the main hall at the St. Augustine Home for the event. Each student attending is an escort for a resident of the St. Augustine Home. Prom pictures are taken and distributed to the residents in attendance. Students dance the evening away with the residents and fellow students. It is one of the most memorable events of the year.
Requirements: All are welcome.
Major Activities: Prom is held in the Spring.