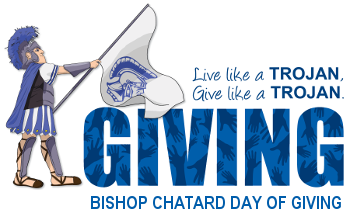 Bishop Chatard High School will host its annual Trojan Day of Giving on April 7, 2020. Trojan Day of Giving is a 24-hour fundraising event that joins the Bishop Chatard community — past, present & future — together to achieve an important goal.
Will you help us create energy and support for BCHS on Trojan Day of Giving? In addition to helping our students with a financial gift on April 7, there are a number of creative ways to support BCHS!
Issue a challenge to your classmates or teammates to reach a specific giving goal during a designated hour
Challenge another class or team to see who can raise the most during a designated hour
Underwrite a prize that will be given to all donors, or raffled to all donors, who give during a designated time period
If you would like to help Bishop Chatard with our tuition assistance program, please complete the form HERE. Director of Fund Development Margaret Ruffing will contact you. Questions? Please contact Margaret at 317-251-1451, ext. 2242, or mruffing@bishopchatard.org. Thank you for supporting Bishop Chatard High School!
Make a Donation Today