The Mission of Bishop Chatard High School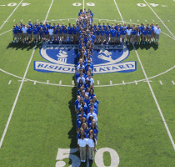 Bishop Chatard High School, a dynamic educational environment for young men and women with different life experiences, is directed to the success of each student, focused on the growth of the whole person, and modeled on the teachings of Jesus Christ and the Catholic Church.
Bishop Chatard High School prepares students for a life-long commitment to faith, learning, leadership and service.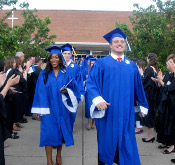 To achieve the mission of Catholic Education, as stated by the U.S. Catholic Bishops (1972) "To Teach As Jesus," Bishop Chatard High School provides a comprehensive religious program which includes:
Religious instruction faithful to doctrine and contemporary in presentation — Instruction addresses both personal sanctification and social responsibility in light of Christian values and tradition. It does not emphasize one of these dimensions at the expense of the other nor is the religious instruction restricted to the religion classes. Efforts are made to relate all aspects of human culture to the news of salvation. Teachers point out the relationships between the Gospel message and the content of other academic disciplines.
Spiritual and moral guidance — Appropriate opportunities for the Sacrament of Reconciliation are given. Spiritual and personal counseling are made available to the students. The goals and expectations of the school's code of student behavior, and other school-wide policies, are rooted in Gospel values.
Strong Youth Ministry — Youth ministry organizes school-wide and small-group liturgical worship. It also provides student retreats and days of recollection. Youth ministry establishes programs which train students for service to the less fortunate. It also arranges opportunities for student service to others.
During his 1987 pastoral visit to the United States, Pope John Paul II described it this way: "The ultimate goal of all Catholic education is salvation in Jesus Christ. Catholic educators effectively work for the coming of Christ's Kingdom. This work includes transmitting in full the message of salvation, which elicits the response of faith." This ultimate goal is realized by the achievement of three specific objectives in our Catholic schools:
To teach the doctrine of the Catholic Church: The transmitting of the objective content of our faith is the foundation upon which Catholic students will build their adult lives of faith.
To build community: It is very important that we call our students beyond the extreme individualism of our age and invite them into caring communities where they will learn about themselves, grow to their full potential, and discover the presence of God.
To motivate service: The message of salvation is communicated by motivating young people to service. Catholic teaching doesn't end with doctrine. If it did, it would be rather sterile. Catholic teaching doesn't end with community building. If it did, it would be rather self-serving. Catholic education finds its fulfillment in motivating others to service, a dimension clearly rooted in the life and ministry of Jesus himself.
Bishop Chatard is an inclusive educational environment comprised of a diverse group of students with one thing in common: the desire for a Catholic education. While Bishop Chatard has consistently remained the top high school choice of students from the Archdiocese of Indianapolis' nine North Deanery parish schools, we also welcome students from a number of middle schools throughout Indianapolis. We are all Bishop Chatard Trojans.
WHO WE ARE
2019-2020 Enrollment: 712
Catholic representation: 88%
Minority representation: 20%
2019 graduates receiving Indiana Academic Honors Diplomas: 61%
2019 graduates pursuing a college education: 93%
Students who participate in class retreats during each of their 4 years at BCHS: 95%
Students participating in extracurricular activities: 91%
Students participating in athletics: 84%
OUR VISION
Every student will have an equal opportunity to contribute in significant ways to the positive life of the school.
We will value and respect one another and enhance the opportunity for all students to reach their full potential.
This vision will be realized as we commit to integrating our Catholic values into our daily interactions and behaviors.
Our Faculty & Staff
Mr. Bill Sahm serves as the president of Bishop Chatard High School and is responsible for all facets of its operations, with a focus on institutional advancement. Principal Joe Hansen leads the academic team while Vice President of Mission and Ministry, Deacon Rick Wagner, directs faith and spiritual instruction. Vice Principal of Academics Ann Taylor and Vice Principal of Student Services Ben Reilly, along with Vice President of Institutional Advancement Tyler Mayer, round out the school's leadership team.
Bishop Chatard is staffed by 98 administrators, teachers, and guidance counselors.
All Bishop Chatard teachers hold a bachelor's degree or catechetical certificate and 80 percent hold at least one master's degree or higher.
Teachers participate in the Catholic Educator Advancement Program (CEAP) which directs compensation based on performance in the classroom, commitment to our mission and personal educational advancement. All teachers are certified in their teaching areas by the state of Indiana.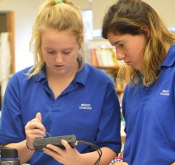 When talking with middle school students and their parents, Bishop Chatard administrators often explain that the archdiocesan high school's focus is to prepare students for college now, and heaven later. With a mission to educate the "whole person," Indianapolis' North Deanery high school stresses academic excellence while challenging students to see those in need and to take initiative in serving them.
A unique leadership model helps faculty and staff achieve that goal. Principal Joe Hansen oversees the high school's academic program which offers students over 125 courses. Honors, Advanced Placement and Dual Credit classes account for over one-third of the course offerings, and the success rate in advanced classes is high. In 2017-18, 61 percent of students taking AP classes received a 3 or higher on AP exams, qualifying them to receive college credit.
Bishop Chatard's student body is comprised of a broad range of learners. The school is able to maintain an inclusive learning environment by offering innovative programs and resources necessary to narrow learning gaps.
Courses offered: 125
AP & Dual Credit Courses offered: 24
Honors Courses offered: 22
Students served by Academic Support Program: 18%
Student-to-Teacher ratio: 14:1
Average class size: 17
Graduates in Bishop Chatard's Class of 2019 earned over $20.8 million in college scholarships and grants, an average of nearly $125,000 per student. 61 percent of the class received an Indiana Academic Honors diploma and thirteen earned the school's Summa Cum Laude distinction. 80% of the class graduated with college credit — an average of 10.76 credits per student.
Celebration of weekly all-school Mass. Four-year theology course requirement. Discovery-focused spiritual class retreats. Servant leadership modeled in the teaching of Jesus Christ. Formation of the whole person.
These are all part of the Bishop Chatard experience.
Within the walls of Bishop Chatard High School, our Catholic faith permeates school curriculum and activities in a purposeful and structured way. Teachers and staff, led by a unique President-Principal leadership team including a vice president of mission & ministry, create a faith-based learning environment that supports the pursuit of academic excellence while promoting Christian values. An underlying current in our halls and classrooms prompts students to continually look beyond themselves to see those in need and take the initiative to serve.
Service hours completed during the 2018-2019 school year: 16,756
Student participation in class retreats for each of their 4 years at BCHS: 95%
Upperclassmen serving as freshman mentors: 66
The faith formation begun at Bishop Chatard does not end at graduation. The service hours performed annually by our students, and participation in domestic and foreign outreach and mission programs, are preparation for discipleship in today's global society. The continuing commitment to faith, learning, leadership and service is part of what it means to be a Trojan for life.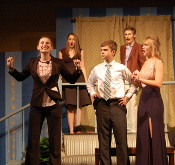 With an average enrollment between 700 and 750 students, Bishop Chatard High School is small enough to focus on the personal growth of each student, while having the resources to offer dozens of unique clubs, sports teams and leadership programs. From arts to athletics, or from improv comedy to investment strategies, our club moderators and team coaches — many of them teachers — create diverse opportunities for students to continue their personal exploration and develop their unique gifts.
Success in and out of the classroom is stressed for all students, supportive of the talents they bring to Bishop Chatard. During the 2018-2019 school year, 93 Trojans were named Academic All-State athletes, setting a school record. Eight were named Academic All-American (2 teams were named Academic-All American). We believe potential is not measured at our Archdiocesan North Deanery high school by grade point average. Involvement outside the classroom is emphasized in support of the value our mission places on developing the whole person.
Last year, 95 percent of our student body participated in class retreats, ranging from a day of reflection to a three-night/four-day Christian awakening. 263 (37%) of our students volunteer as school ambassadors, representing Bishop Chatard in a leadership capacity. 84 percent of students compete on athletic teams, while 91 percent are active in clubs and the arts. Bishop Chatard's student publications are consistently named among the best in the state and nation.
At Bishop Chatard, we believe that each individual has infinite value, and we are committed to providing extracurricular activities that appeal to all.
Learn more about opportunities for student involvement:
Clubs and Fine Arts
Athletics
Service and Retreats
Student Journalism
THE SCHOOL MOTTO

The school motto, FESTINA LENTE, is Latin for Saint Paul's plea: 'Make haste, slowly,' meaning that we hurry to join our Lord, but we take the time to live our lives well.

THE SCHOOL COAT OF ARMS

The school coat of arms is based on symbols that represent the four foundational principles of the mission of Bishop Chatard High School – Faith, Learning, Leadership and Service.

SCHOOL SPIRIT


School Colors: Royal Blue and White
School Mascot: Trojans

TROJAN FIGHT SONG
Cheers to her name,
Hail to victory,
Always remember
Trojans we will be. Rah! Rah! Rah!
Active in game,
Ready to fight,
Defending her colors,
Three cheers for the blue and white-Fight!
BISHOP CHATARD ALMA MATER

Here's to Chatard our Alma Mater
Proud are we of her sons and daughters
Loyal and true we'll always be
Standing as Christians for all to see.
Laud and Glory we give to you
Heralding your colors of white and blue.
All through our life we'll always guard
Our love of dear Chatard
Our love of dear Chatard.